Here is where it all started...
A quarter of a century growth, adventures around the globe and the latest imaging technology.
Twenty-five years ago, when fax machines, phone books, and letters were an everyday part of working life, Mike and Elke Harman launched a family business operating out of their home on the Northern Beaches of Sydney, Australia.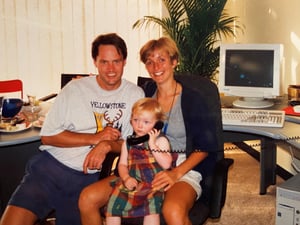 Called INLINE, the company was – and still is – the Australian distributor for several manufacturers of leading medical endoscopes and visual inspection equipment. It was a new venture for the young couple, having recently returned to Australia with their baby daughter, Lena, after seven years living and working in Elke's home country of Germany.
Mike, an electronic engineer who originally hails from Melbourne, was excited to be back in Australia and keen to establish INLINE as a successful technology-based business. "I'm an engineer; I like solving problems and I think that's what drew me to running the business because there are always problems to be solved and technical issues to overcome," explains Mike. "I enjoy the technical side of the business."
In 1996, the business was growing rapidly, and so was the family with the arrival of Mike and Elke's son, Nils. INLINE soon moved into a large warehouse, followed by another move in 2003, into its own greenfield warehouse and office space in the Sydney beach-side suburb of Warriewood. Today, a quarter of a century since it first opened its doors for business, and with fax machines long ago superseded by email, INLINE is celebrating its silver anniversary.
A leader in imaging technology
INLINE has evolved to become a leading expert in imaging technology, supplying and installing customised solutions for the medical, dental, and industrial sectors across Australia and New Zealand. INLINE's suite of medical products supports specialists in ENT, dermatology, radiology, general practice, telehealth and gynaecology. The company has provided imaging solutions for large public and private hospitals and is involved with numerous research and healthcare programs.
Its products are used by almost 6,000 dentists & surgeons across the country; and in the industrial sector, where INLINE supplies a specialised range of borescopes and commercial camera systems, the company is continuously researching new technologies and equipment, staying at the forefront of industrial developments.
"It's hard work running a small business, but I love it," reflects Mike, who is INLINE's Managing Director. "I love dealing with our customers and the suppliers …[and] I love the flexibility that it provides. In our industry, change is always happening and during the past 25 years, we've often had to pivot and develop along with the products that we sell."
INLINE's team has grown over the years and Mike and Elke, who is the company's Accounts Manager, still work together in the business every day. "We have a great working relationship," says Mike. "Because we run our own business, and its our livelihood, it's nice to do it together. We always talk through business issues together."
An adventurous spirit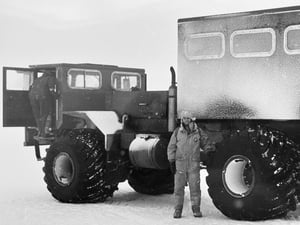 In 1986, as a young graduate from RMIT University, Mike accepted a 12-month position as head of the science team with the Antarctic winter-over crew at Scott Base – New Zealand's Antarctica research station.
"It was an amazing experienced to be down there," says Mike who was responsible for monitoring science experiments during the long winter. "We were the last group at Scott Base to have huskies. We would go out on the sleds with the huskies and do overnight trips, camping out on the ice and watching the Aurora Australis above us. It was fantastic."
This trip to Antarctica was not to be Mike's last: He spent six weeks there in 2008 and 2009 driving an inflatable Zodiac for cruise-ship tourists. This time Elke joined him too. "I spent time driving the Zodiac around looking for killer whales and penguins and seals – all sorts of animals. I love going down to Antarctica. I love being immersed in nature and getting out of the city," says Mike.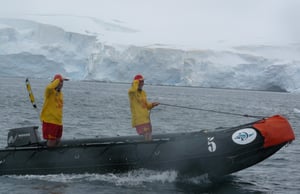 In 1987, after concluding his time at Scott Base, Mike returned to Australia. Fate played its hand and while travelling by bus from Sydney to his home in Melbourne, Mike found himself seated next to a young German backpacker – Elke Eyhorn.
Mike took a life-changing detour, and the pair continued their journey together to Perth and then on to Scotland for 9 months where Elke was working at the Camphill Rudolf Steiner school near Aberdeen. This was followed by a 12 month 4WD adventure with friends, driving overland from Scotland, through Europe, Morocco, the Sahara, and Kenya and finally, into South Africa. The next destination was Freiburg in southwest Germany, where Elke commenced her university studies and Mike found work in project management for a company that designed and manufactured machines for high-speed industrial imaging.
In his spare time, Mike took up hang gliding with friends in the nearby Swiss Alps. The adventurous spirit that Mike and Elke share is something that has also shaped their approach to doing business. "I think those early years of adventure travel really opened us up to being more risk friendly," says Mike. "I think I am someone who has always been open to taking advantage of opportunities when they come up – whether in our personal life or in business. If you are someone who worries and stresses too much, I don't think you would enjoy running a business."
Change management
In 1995, keen to return home to Australia, Mike showed some entrepreneurial savvy and approached the business across the road from his Freiburg office. The company was Schoelly, a leading German manufacturer of medical and industrial endoscopes. "I would always see the guys from Schoelly during lunch breaks and I really liked the way the company worked so I asked them if they had a dealer in Australia, and they didn't."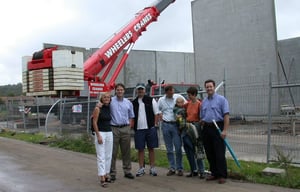 With a distribution agreement in hand from Schoelly, Mike and his family arrived back in Australia in August 1995. The demand for high quality industrial endoscopes, borescopes was strong, and the business grew. Clients included companies working in mining and geology, aircraft, oil and gas, construction, and building inspection. Australia's only nuclear reactor at Lucas Heights, NSW, which produces medical radioisotopes, was also a customer.
The pest industry was another early market: Australia's destructive termites were no match for INLINE's high-powered borescopes that could detect the tiny insects up to five-metres away in wall cavities. Marketed under the brand name, BugEye, hundreds of INLINE's termite borescope kits were sold. Likewise, the market for INLINE's medical range was also expanding to include dentistry, ENT, radiology, and speech pathology. "We were selling the same type of technology and products across a whole range of fields," says Mike.
To strengthen the brand, Mike sought to establish a point of difference for INLINE. He refers to the unique service INLINE provides its customers as "solutions architecture". "Our goal is to provide customised solutions to our clients," explains Mike.
"Customers might tell us they are just looking for one product – such as an endoscope; but they haven't thought much about the images & videos they want to record and whether they want to archive or email them to a colleague. Do they need to compare it with an old image? Do they need to write a report? How are they going to archive this information and make sure it's always available and ready to use? Is it compatible with other systems they have in their business?
"I think our strength has been our ability to find solutions for customers, rather than just buying and selling boxes of equipment," says Mike. With all facets of business, INLINE prides itself in its sales, after-sales, training, and support services. "Our team really are the experts in imaging technology, particularly now that digital imaging is so important in the medical, dental and industrial sectors," says Mike.
In 2005, the company made the decision to further specialise in head and neck CBCT imaging. INLINE now supplies, installs and services leading edge cone beam CT imaging systems that provide ultra-high-definition images; orthopantomogram (OPG) systems; dental imaging; operating microscopes; and intra-oral dental cameras. This equipment is used by professionals for numerous applications including petrous temporal bone work, cochlear implant placements, speech pathology examinations, temporomandibular (TMJ) disorders, sinus problems, orthodontics, and restorative dental procedures.
INLINE is also working closely with cutting edge telehealth technology and supplying equipment & software to remote communities all over Australia to connect patients with specialist health services from their local GP or from their homes. "A really important part of the business for Elke and I are the wonderful relationships we have established with our clients and our suppliers who are located all around the world" says Mike. "We really enjoy this side of the business."
Looking back to the future
For Mike, Elke, and the team at INLINE, the past 25 years have been very busy.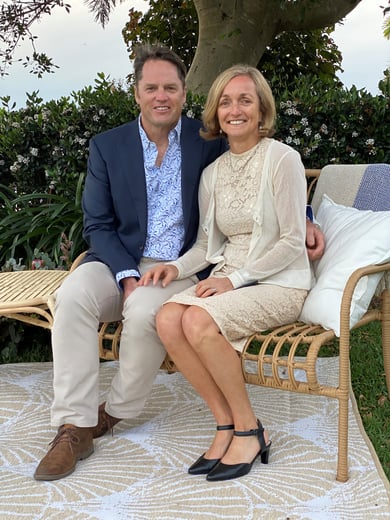 Throughout it all, says Mike, there has always been a focus on creating a work environment that is friendly and flexible for staff – many of whom live in the surrounding suburbs on Sydney's Northern Beaches.
"I'm proud of what we've achieved. We have managed to grow our business consistently over the past 25 years and create exciting employment opportunities for a range of professions such admin, marketing, graphic design, accounting, tech support, software development, sales management, customer support and biomedical engineering. Most importantly, INLINE has always been a safe and friendly place to work.
"In business, I think it's so important to enjoy what you're doing and to create a nice environment for people to come to work and to be part of a team. Most of our staff have worked in the city at some point and done the commute and they're happier not to do that. Most of them live locally, so it's nice to have people who can ride their pushbikes or walk to work and go for a run at lunch time."
As for the future, Mike believes that medical imaging space is looking very exciting.
"With the NBN now in Australia and access to high-speed internet increasing rapidly, I think telehealth is the future and with the high-definition imaging that we're providing through our equipment, doctors are now able to make remote diagnoses from almost any location. Years ago, this wouldn't have been possible so this increase in access to high speed internet will be the next pivot point for the company and it will open up a whole range of new opportunities. INLINE is now part of this digital revolution with medical and industrial imaging
"I think that imaging – particularly medical imaging – has a really exciting future."